Injection moulding of plastic material is a manufacturing process where thermoplastic material is melted and injected, at high pressure, into a closed mould. After solidification, the mould is opened, and the final product is extracted.
Injection moulding is a delicate yet versatile process that enables the production of components and/or items of all shapes and sizes. Thanks to the large variety of machinery at our disposal, we are able to produce pieces of significant sizes.
This is why our injection moulding department is equipped with modern and innovative presses, with pressure capabilities that range from 30 to 700 tons. Customers come to us from a wide variety of sectors (e.g. automotive, electronic, interior design, health) and, thanks to our facilities, we are able to competently and professionally meet their requirements.
By building pilot moulds, which serve the purpose of moulding a pre-series of pieces, the customer can evaluate and physically test the finished product to ensure that it satisfies the production requirements. Furthermore, our measuring machine allows us to check the product's tolerances even more thoroughly.
We use any traditional plastic material, both amorphous and semi-crystalline, but we also use fiber-reinforced engineering plastics as substitutes for conventional metal alloys, and other green and state-of-the-art materials, which are increasingly requested. Depending on the specific target sector of the product, we only use certified materials in compliance with international regulations.
Innovative Moulding Techniques
It is possible to overcome the limits of conventional injection moulding with gas co-injection. It allows the use of thermoplastic polymers in contexts usually suitable for other materials. Gas-assisted injection moulding is a process where an inert gas is introduced at pressure inside the plastic melts previously injected in a mould. This process allows us to make products with internal cavities. Furthermore, it makes the products lighter, reduces the duration of the moulding process, and eliminates faultiness without compromising the mechanical features of the final product.
This technique allows us to create finished products made of different materials while achieving the highest quality and maximum aesthetic appeal. We can incorporate metal inserts inside the plastic bodies. The result is a quick process that guarantees maximum precision while being, at the same time, cost and time effective.
It allows us to use two different plastic materials at the same time inside the same mould thanks to different techniques. This production process takes place simultaneously, thus accelerating production time in a cost-effective way.
The substitution of metal alloys with high-performance engineering plastics finds application in a wide variety of sectors. This method improves the aesthetic appeal of the final product cost-effectively and reduces its weight without losing any structural integrity.
This is why our injection moulding department is equipped with modern and innovative presses, with pressure capabilities that range from 30 to 700 tons.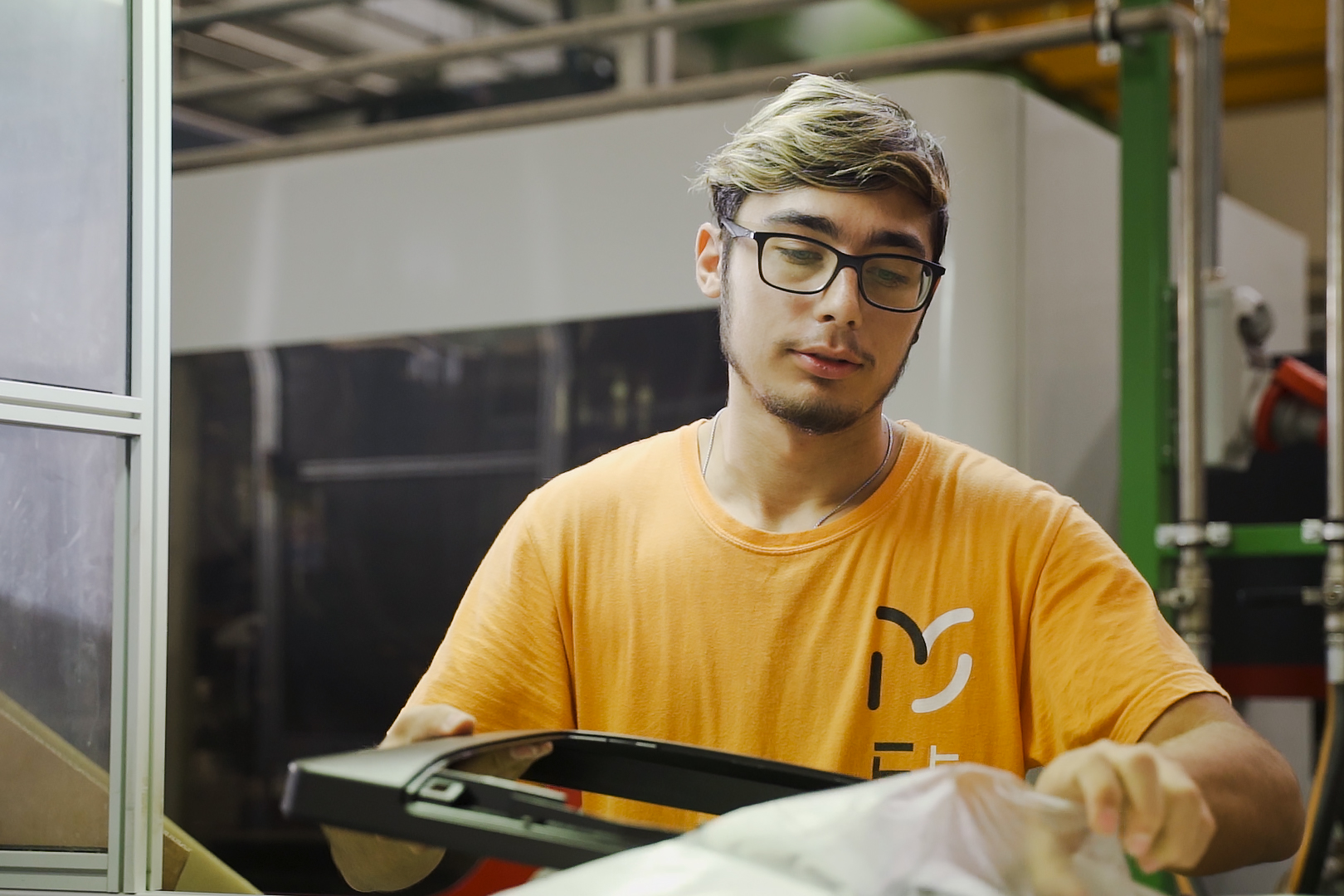 Sandretto Injection Press 30 ton.
Arburg Injection Press 50 ton.
Negri Bossi Injection Press 70 ton
Negri Bossi Injection Press 130 ton
Negri Bossi Injection Press 180 ton. with cartesian robot
Negri Bossi Injection Press 220 ton. with cartesian robot
Arburg Injection Press 250 ton. with cartesian robot
Negri Bossi Injection Press 330 ton. with cartesian robot
Negri Bossi Injection Press 500 ton. with cartesian robot
Negri Bossi Injection Press 700 ton. with cartesian robot
Bauer Molding Gas System
Molecular-sieving Dehumidifiers
Thermoregulation System until 140°C
CMM Wenzel Measuring Machine, measuring field of 1000x1600x800